LESBIAN CURVES: This Isn't Your Mama's Lesbian Porno! A Sexy Smutty Marriage of Bellies & Babes From the Brains of Courtney Trouble
You know what I like even more than donuts? CURVY, QUEER PORN that features fierce femmes fucking each other senseless. Heels in the air, njoy Eleven's deep inside hot, wet wanting cunts, beautiful soft bellies, real boobs and the snap of a black rubber glove. And that's saying something. Because I fucking LOVE donuts.
Needless to say, I was pretty excited about finally getting my filthy paws on a copy of Courtney Trouble's Lesbian Curves DVD.
Check out my detailed scene by scene breakdown below, as well as some super hot stills from the film…
Courtney Trouble and Sandy Bottoms
Definitely my favourite scene in Lesbian Curves, scene one features a couple of my queer porn crushes from way back – Courtney Trouble and Miss Sandy Bottoms. The scene starts with these hot femme curve queens wearing matching glitter heels and making out, grab assing and deeply kissing on a bed. Nope – there's none of this mainstream 'lick tongues in the air' shit going on, folks. Sandy moves her mouth's focus from Trouble's face to her stomach and breasts before Trouble flips her onto all fours and starts to stroke the hot mess going on inside Sandy's mesh knickers. The hand on mesh frottage escalates quickly and Trouble wastes no time in pulling Sandy's knickers to the side to make way for some Trouble finger on clit action.
The circus-y background music dies down at the perfect time for us to be able to hear Sandy's moaning increase as Trouble rubs her clit harder and faster. I felt my own cunt tingle at this point because I could tell Sandy was just waiting for Courtney to stop teasing her and fill her up with fingers.
There was a point around this moment in the scene where I realised that I am a fucking filthy femme to the bone because while I was admiring Courtney's fingerbanging skills, I was dual admiring Sandy's neat hairdo. My thoughts were jolted however by Trouble pushing her fingers inside Sandy, while Sandy thrusted her hips back onto them. At this point, Louise interjected with, "Sandy's got a really cute bush". Touche. The rest of the scene includes Trouble going down on Sandy, Sandy giving Trouble a handjob and Trouble fucking the shit out of Sandy with a big glass dildo while going down on her. Boner. They're just both so… dreamy.
Peppermint Fatty & Sophia St James
I didn't realise Sophia St James was actually in this movie until I got to this scene and then I became VERY excited because I'm all kinds of Sophiasexual. BUT I just couldn't get into the groove of this scene. Maybe it's because I'm really not attracted to Peppermint. Maybe it's because I felt like she was giving Sophia no exchange of sexual energy. Maybe it's because I felt like the sex was just happening to her and that she came across disconnected. I don't know. Sophia though, as always, was brilliant. Curvy, sexy and a total femme rockstar fuck.
I did find it VERY bizarre though that Peppermint used a latex glove to fuck Sophia, yet went down on her without any barriers. What's the point? Is the glove an aesthetic? Is it a nod to safe sex? Why bother wrapping up your hand if you're going to bareback your face? What's the logic? CURIOUS MINDS.
Eden Alexander and Kitty Stryker
This scene's pretty cute. I love me some Kitty Stryker. The scene starts with Eden and Kitty having a sleepover, when Eden suggests they play "Have I Ever". The game turns sexy pretty quickly with Eden blindfolding Kitty and Kitty saying, "We're not playing 'Have I Ever' anymore, are we…?". Eden takes control of Kitty; slapping on a latex glove and fucking her with one hand while clasping her hand tightly with the other, all while passionately making out.
Despite the kink and ageplay elements to it, the scene is very soft, cute and My Little Lesbian. There's a bit of Hitachi action, some strapon wielding, a breath of ageplay and a couple of cute, curvy femmes going at it. What more could you want, really?
Betty Blac and Kelly Shibari
The final scene in Trouble's Lesbian Curves features Padded Kink's Kelly Shibari and Betty Blac and is BY FAR the BUSTIEST scene of the whole film. Similar to the previous scene between Eden and Kitty, the sex is all very soft. There's lots of lying on the back and being fucked. Lots of sexy, quivering thighs and sweet moans. Kelly does a great job of working Betty over with an njoy Eleven.
Again though, this scene does questionable things with the token latex glove. I found it weird that it would be used for penetration and then would still be worn while Kelly grabbed other toys to transfer to her other gloveless hand. This happened so many times that the amount of fluids being spread from cunt to toys to bare skin to faces, made the point of the latex glove redundant. Despite that, the chemistry between Kelly and Betty had a cute, nervous feel to it the highlight was definitely the intensity of Betty Blac's final thigh twitcher of an orgasm!
FINAL VERDICT: All in all, Lesbian Curves is a fun 4 scene romp. To be honest, the sex is way too soft for my personal jack off tastes but the bodies are beautiful, the whole thing is well shot and put together and it's just fucking NICE to be able to see non mainstream porn binary bodies doing their thing in queer porn, without having to be fetishised or humiliated as 'fat'. Unfortunately there's not rimming or ass play in any of the scenes though. Maybe next time. An additional thought is that Courtney Trouble should do a a Disney Princesses Queered porn because holy hell all I can think about now is Sandy Bottoms as a queer Snow White getting gang banged by her seven butches. Right??? You're welcome. And Courtney, you're welcome to cast me as The Little Mermaid and some terrifying curvaceous queer femme cougar top as the sadistic Ursula…
ANYWAY, get your DVD or VOD copy of LESBIAN CURVES here!
To watch more hot queer porn, click on the banner below!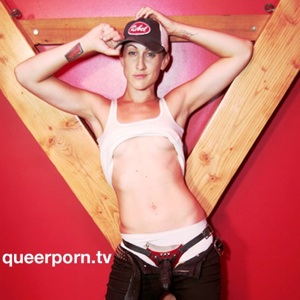 One Response to "LESBIAN CURVES: This Isn't Your Mama's Lesbian Porno! A Sexy Smutty Marriage of Bellies & Babes From the Brains of Courtney Trouble"
YOU MAY LIKE